Overview:
Summer season begins! The focus of this week's practice at Rainier Vista 4 is getting to know your. Get to know all the players and how the team plays. We will follow the framework of Play-Practice-Play. The teams we have are Bumblebees (BU8), Dragons (BU9), Tigers (BU10) and Bears and Pumas ( BU11).  
From a tactical focus we are helping the players understand how to play on a bigger team. Nearly all the players are playing within a formation that is larger than they are used to. From Bumblebees to Pumas it is important that the players learn how to play as part of a team and formation.
Coaching Staff
Bumbelbees
Dragons
Tigers
Alex SC
Grace
Sophia
Trinitee
Bears
Pumas
Field Layout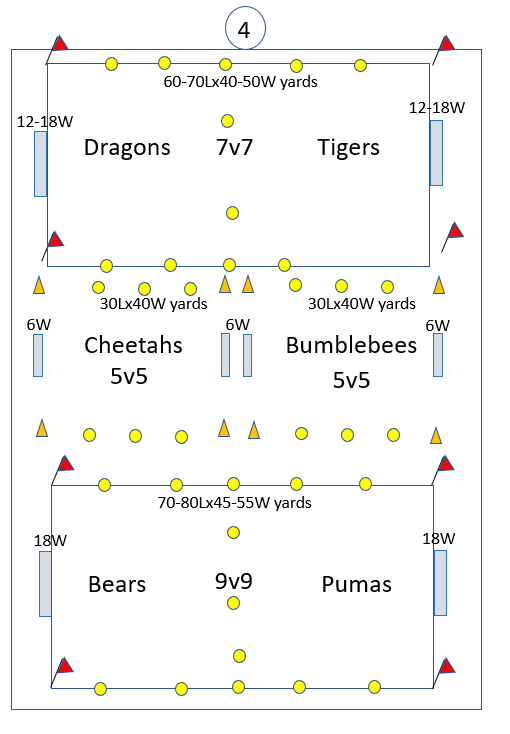 Summer Rules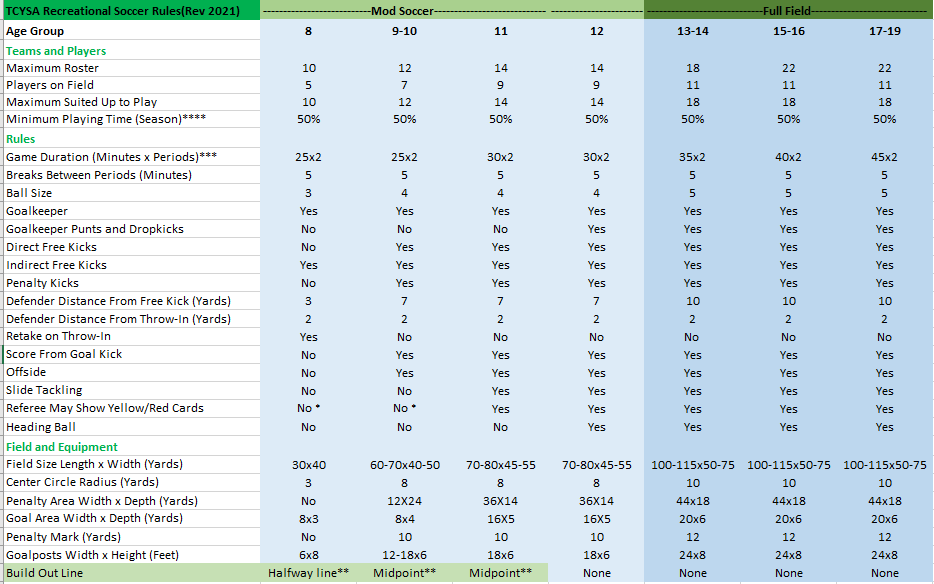 My initial thoughts on formations are:
Bumblebees play 2-2-1. This helps them begin to learn the basic roles of defenders, midfielders and forwards.
Dragons and Tigers play 2-3-1. They build on their knowledge of defenders, midfielders and forwards and learn how to work as a defensive sub-team with two centerbacks. This is the first defensive building block of there learning.
Bears and Pumas play 3-3-2. This formation helps develop the defenders ability to operate as part of a defensive unit and due to the size of the field and number of players there is a distinctive build up phase to the attack. This formation sets the learning environment learning how to operate as a defensive unit, build-up as a team and then create scoring opportunities. 
Practice Focus:
Get to know your players
Get to know your team
Learn how to play in their new formations
Key Words:
What is your name
What position are you playing and where should you be
Play 1 (Small Sided Games):
5:30-5:50
Small sided games on the teams normal fields. If more than six players come coaches should consider running two small sided games as the purpose of this exercise is to get the players as many touches as possible in a game like situation. Sam will provide the pugs.
Water:
5:50-5:55
Give the players a very short water break. Make them run to their water and back. 
Practice:
5:55-6:10
Each team is free to run their own practice session in order to better know their team. Going over the basics of trapping, passing or shooting is not a bad option. Don't take on too much. Make sure the players are not wasting time standing in lines. We want them to get lots of touches on the ball. Also, remember that players learn through their eyes and not their ears. Show them what right looks like.
Play 2:
6:10-6:30
Bumblees and Cheetahs will have two games going simultaneously. The Tigers and Dragons will play against each other. The Bears and Pumas will play against each other. 
Coaches will focus on getting the players to play their roles within the designated formation.
Thursday
See the 10 June training session page. 
Coaching Tasks
Take roll so we can reach out who is missing. Sam will provide a roster and pen to track players.
By the end of practice know every players name.
Ask players to ask their parents if they want to and can play in the 24-5 July Kick in the Grass Tournament and bring the answer back to practice on Thursday. The cost for this will be approximately $40 a player.
Remind your players they need to order a jersey from Wembley Soccer shop if they do not already have one.