Overview:
This week is going to be a week requiring the coaching staff to work closely together to cover each other as the end of year high school activities is going to challenge us. 
Alex J, Bryan and Eli will not be at practice on Tuesday due to Timberline graduation. Sam will leave practice on Tuesday early to attend the ceremony. 
The Bumblees and Cheetahs  on field 2 and the Dragons and Tigers on Field 1 will follow our standard format and timeline of Play Practice Play. Coaches on each field may focus on what they think is appropriate for the Practice portion of the training.
On field 3, the Bears and Pumas will follow a slightly modified format. They will follow the P-P-P format, but the practice format will be non-standard and the final play will start earlier so Sam can depart to the graduation ceremony. 
Jimmy, please be prepared to pick up any equipment at the end of practice likes flags and cones and drop them off at Sam's house. Sam will depart with his green wagon around 6:10.
Coaching Staff
Bumbelbees
Dragons
Tigers
Alex SC
Grace
Sophia
Trinitee
Bears
Pumas
Field Layout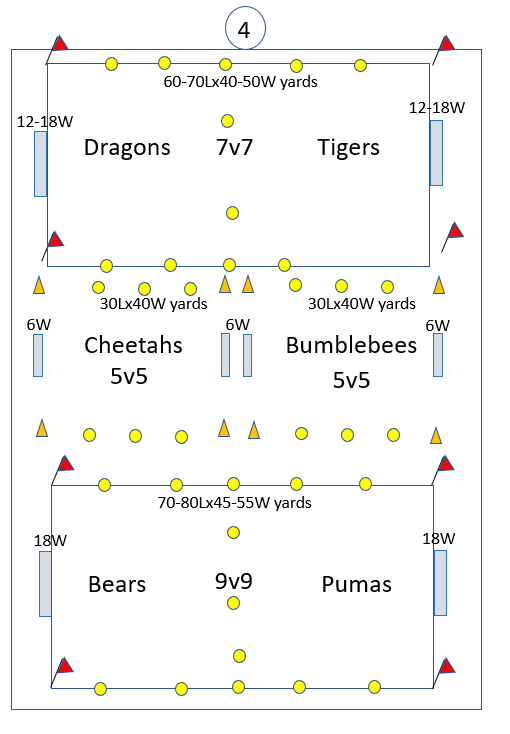 Practice Focus:
Develop basic skills
Learn how to play in their new formations
Learn basic rules of the game - build out line, goal kicks, corners, etc
Key Words:
Watch how I do...(teach through their eyes and not their ears)
What position are you playing and where should you be
Play 1 (Small Sided Games):
5:30-5:45
Small sided games on the teams normal fields. If more than six players come coaches should consider running two small sided games as the purpose of this exercise is to get the players as many touches as possible in a game like situation. Sam will provide the pugs.
Water:
5:45-5:50
Give the players a very short water break. Make them run to their water and back. 
Practice:
5:50-6:05
Dragons, Tigers, Cheetahs and Bumblebees will focus on what their coaches see fit.
On field 3 Bears' side, Sam will consolidate the defenders from the Bears and the Pumas with Chevelle will run them through a drill focusing on building their ability to defend as a team.
On the Pumas side, Conner will lead the remainder of the Bears and Pumas with Sebastian on alternating between basic line passing drill and 2v5 keep away. If you need to play 1v5 keep away. Layout two to three boxes of cones based on the number of players to play keep away. Practice passing for five minutes and then keep away for five minutes and then go back to passing. 
Play 2:
6:05-6:30
Bumblees and Cheetahs will have two games going simultaneously. The Tigers and Dragons will play against each other. The Bears and Pumas will play against each other. Jimmy or Brock may have to assist with the Bears or Pumas when Conner and Chevelle leave to go to the Rivals' practice and Sam goes to the graduation. 
Coaches will focus on getting the players to play their roles within the designated formation.
Thursday
Repeat the same practice on 17 June with the exception that the practice portion will run through 6:10.  The Bears and Pumas will scrimmage the GU10 from 6:30-7. Sam will leave at 6:30 and will assign one of the high school coaches to be in charge when he departs. 
Coaching Tasks
At the end of the week have a solid plan of who is playing what position as games will begin the following week
Continue to get to know the kids and make sure they are engaged, learning and having fun