This is very much in draft so please provide feedback.
As of 27 June 2023 12:30 am EST
Overview
Chebeague week will happen the week of 4 July. The week will basically go as it has gone in the past. The major difference this year is that Kate will not be joining us and Amy will be joining us. Additionally, Chebeague Week will actually kick off on 2 July in Natick with Michele's birthday. Most people will arrive to Chebeague on 3 July and the Canton Hales will depart early afternoon on 5 July to get back for camp. The rest will leave the morning of 6 July except for Ashley who will stay and enjoy some time at Chebeague with her friends.
Attendees
Grandmother
John
Amanda
Emily
Natalie
Chris
Michele
Corey (TBD)
Ashley
Sam
David (29 June to 10 July)
Bryan (29 June to 25 July) 
Amy (2-7 July)
Timeline
Date
Event
Comment
29 June
David and Bryan Arrive
Arrive on 2 separate flights from SFO arrive 4:20pm and Sea-Tac arrive 11:59 pm. Current plan is Grandmother to pick up David. David and Sam will pick up Bryan 

2 July

10am-12pm

Twilight Imperium Tutorial
Sam, Corey, David, and Bryan will play a training session of Twilight Imperium in Lincoln
2 July
Amy Arrives
1:13am DL 865. Sam will pick up Amy.
2 July 1-3 pm
Michele Birthday
Afternoon in Natick. 
3 July
Families arrive Chebeague
Each family responsible for their own transportation. Amy will move with the Lincoln Hales
3 July
Pick up Dylan Cart
 
4 July
Happy Birthday America!
One full day of everyone together
5 July
Catered Breakfast
2 birds will feed 12 with a catered breakfast
5 July Afternoon
Canton Hales Depart
Canton Hales depart early afternoon
6 July
Return Cart
 
6 July
Natick and Lincoln Hales Depart
With the exception of Ashley, remaining people depart
7 July 10:05 am
Amy departs logan
DL 1154 Sam will drop off. 
7 July
10 am - 8 pm
Twilight Imperium - Sam, Corey, David, and Bryan in Lincoln
10 July 5:40 pm
David departs
Departs logan 5:40pm. Sam will drop off. 
25 July 9:30 am
Bryan departs

Sam and Grandmother drop Bryan off
Weather
10 Day Forecast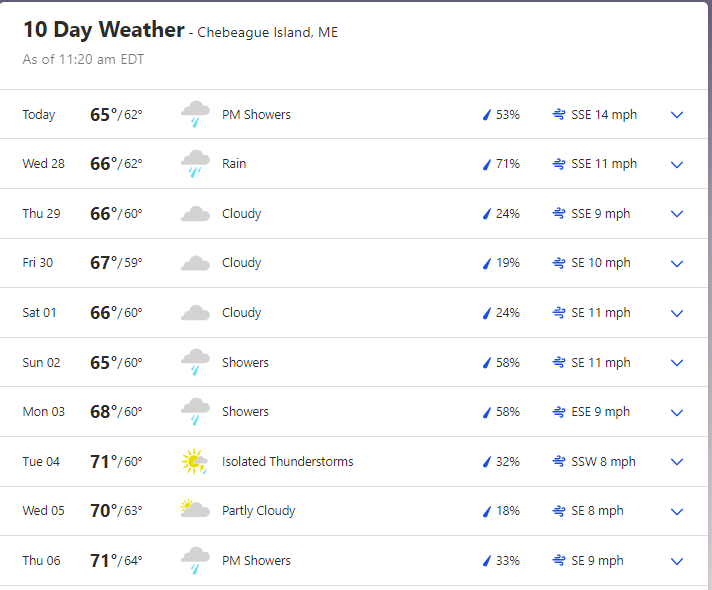 It looks like a fair amount of rain which means that we should plan on rain jackets and indoor activities. There are a good number of games up and a few puzzles. Maybe we want to look at getting another puzzle or two. Additionally, maybe there is another "crafting" like activity we might want to do like a scrap book or a drawing book or something along those lines. If you have any ideas let me know and I can share them with the family here.
The young men in the tent need to remember to keep their flaps closed. 
Menu
| Date - Meal | Main Dish | Lead Chef | Groceries |
| --- | --- | --- | --- |
| 3 July Lunch | Sandwiches | Individual | Sam |
| 3 July Dinner | Grilled Chicken pita sandwiches | Sam | Sam |
| 4 July Breakfast | Individual selection | Individual | Sam |
| 4 July Lunch | Sandwiches | Individual | Sam |
| 4 July Dinner | Burgers and Brats | Sam | Sam |
| 5 July Breakfast | Quiche, Fruit, Croissant | 2 Birds | POC Sam |
| 5 July Lunch | Sandwiches | Individual | Sam |
| 5 July Dinner | Spaghetti and Italian Sausage | Sam | Sam |
| 6 July Breakfast | Individual selection | Individual | Sam |
Sandwiches
We will have a variety of pita and bread and food to put on them. We will have peanut butter, jelly, and bananas. We will also have cold cuts and cheese. Of course we will also have chips. These lunches will not be formal sit down family lunches, but as people get hungry they can eat. 
Grilled Chicken Pita Sandwiches
These sandwiches are served in pita bread consisting of hot cut up grilled chicken, tomatoes, onions, olive oil, feta, lemon, cilantro, cucumbers, with either tzaziki or hummus. We will have yellow rice as the side. Sliced peppers as a side. The desert will be strawberries, blue berries, shortcake and cool whip. 
Breakfast
Breakfast is all on people's own with options consisting of cereal, toast, yogurt, fruit, frozen sausage sandwiches.
Burgers and Brats
This is the traditional American burgers and brats for the family. Grilled Bubba burgers (and an alt non-meat) and grilled brats. We will have corn on the cob, potato or macaroni salad, and salad.  
2 Birds
2 Birds cafe will cater our breakfast on the morning of 5 July. Sam will pick up the food from the 2 Birds around 10am. Sam will go pick up the food that morning. It will consist of quiche (one veggie), fruit and croissants. 
Spaghetti Dinner
Spaghetti, veggie pasta sauce,  Italian sausage, garlic bread, salad.
Food Safety
Nut allergies for Emily are the major safety concern. We will make sure there are no nuts in any of the meals and give special guidance to 2 Birds about the nut allergy.
Drinks
Families should bring the adult beverages they desire. Please bring quantity enough for a little sharing. 
John, would you please bring a cooler and a bag of ice to store drinks in? 
There is already some soda up there and we can get more from the Island store. The island store will be open on 4 July. There is also several little boxes of Chrystal light.
Snacks
Breakfast cookies, chips, veggies, pretzels, and such. We will also have pub cheese, hummus, and dip like snacks. Popcorn will also be available with a variety of flavored salt.
Sleeping Plan
This is my first draft recommendation.
Bunk House
Chris and Michele in the Bunk House.
Big Tent
Corey, David, and Bryan in the big tent. We need to look and find an air mattress for Corey for the tent. David and Bryan will use the fold out mattresses.
Little Tent
Sam will bring this tent as it is currently not at Chebeauge.
Main Bed Room Second Floor
John and Amanda in the big upstairs room. 
Futon Room
Ashley, Emily, Emily will sleep in the Futon Room using the double cot and the futon.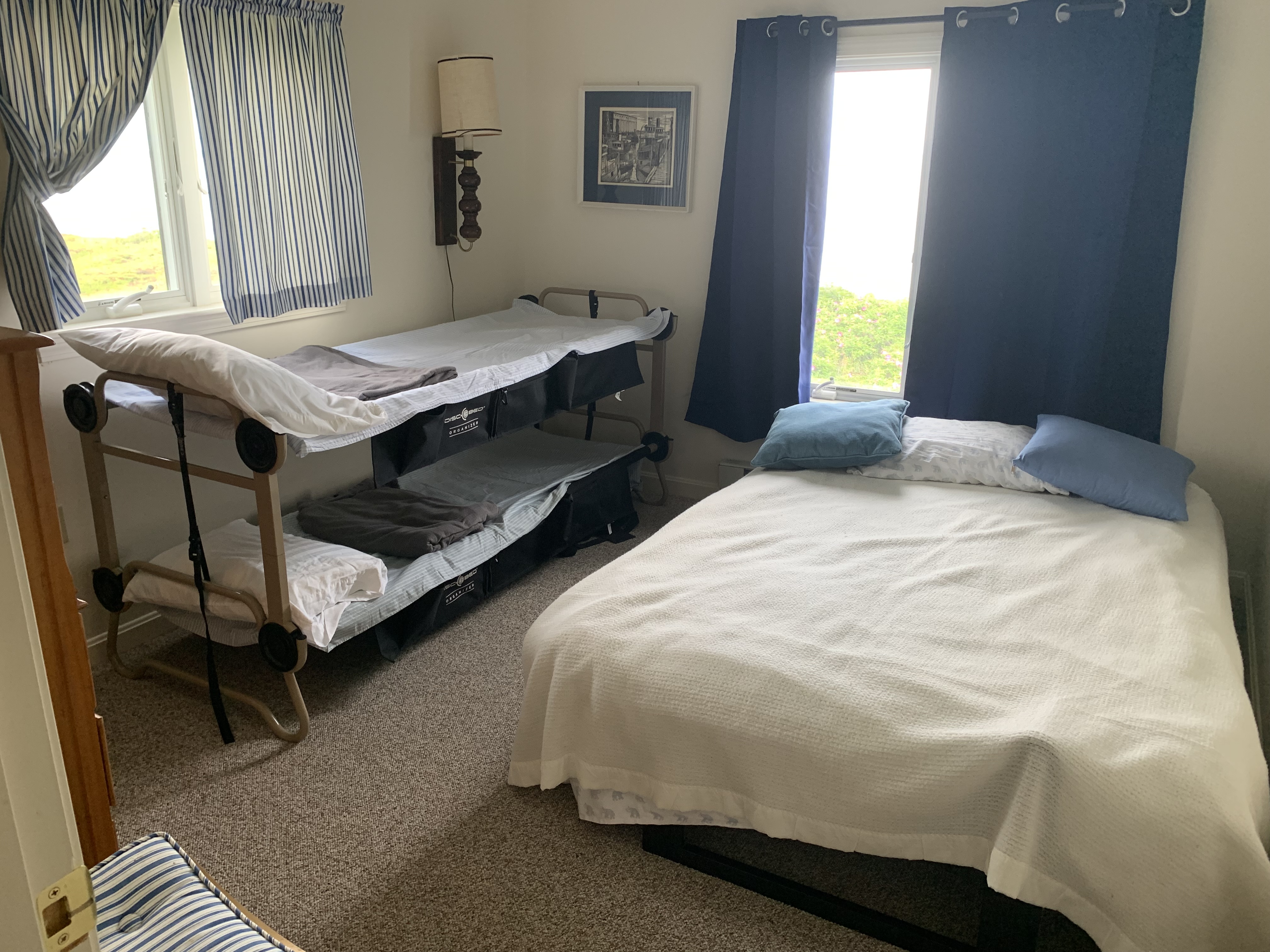 Master Bedroom
Grandmother in her bed. Amy will sleep on a cot in the master bedroom. 
Transportation Plan
Driving
The Lincoln, Natick, and Canton families will coordinate their own transportation to and from Chebeague. Amy, David, and Bryan will go with Grandmother and Sam. Just as a reminder, since grandmother's car is the only car with a parking sticker all other vehicles will need to pay for parking.
Ferry Tickets
Grandmother will purchase ferry tickets for the family. She will provide Chris, John, and Sam with images of those purchased tickets which they and their families will be able to use. The ferry is now using a system where you buy your tickets online and they email you a bar code. Because grandmother is a season parking holder she can purchase them at a reduced cost. 
Random Tasks
Golf Cart
Grandmother has already coordinated with Dylan for a golf cart. She and whoever will be the primary driver of it will pick up the golf cart on 3 July when we arrive and will return it on 6 July when we depart. Driver of the golf cart must be 21 or older.
Water
As the season has been wet, water is not a major concern at this point on the island or for the house. With that said, we will have bottled water for drinking and will set up the outdoor shower for those who wish to use it instead of the inside shower. With us only being there for a few days this should not be a major issue.
Safety
We will have plenty of spray to help keeps the ticks off. 
Preparation
Groceries
Sam will purchase the groceries. He may need some help from John and Chris driving some of the groceries up.
Items Confirmed at the House
6 sleeping pads
8 extra pillows
1 youth sleeping bag
2 adult sleeping bags
3 lobster blankets
2 warm fuzzy blankets
1 twin air mattress with pump
2 queen air mattress with built in pump
Things to Bring From Home
Sumner Tunnel Close
Starting on 5 July Sumner Tunnel will be closed. We will need to use I-90 to get back and forth from the airport.